Program Meetings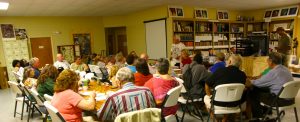 Meetings are held at the MGMS Lapidary School Building. The program meeting starts at 7:30. People start gathering around 7:00 so come early to meet and mingle with others who share your interest in rocks. (Snacks are provided by the members as their schedule permits.)
Meetings are usually held on the 4th Friday of the month with the following exceptions:
February: Join us at the MGMS Gem, Mineral, Fossil & Jewelry Show.

November and December: No meetings are held because of the holidays; however, we have a potluck dinner in early December to celebrate the holidays.
The program will pertain to some aspect of earth sciences or the lapidary arts. Whatever the program, it's sure to be fun and educational.